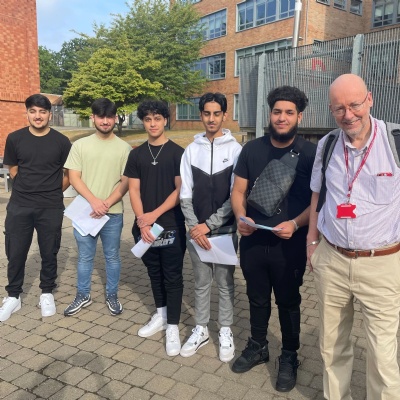 A Level Results August 2022
Congratulations to all our students who collected their A level and Vocational results today. It was wonderful to see all our Year 13s in school for the last time before they head off to university, apprenticeships, employment and adventures!
These were another excellent set of A level results for the school and reflect the hard work, commitment and resilience of our students. With an overall 90% pass rate, 30% of all grades were at grades A*-B and 55% at A*-C. Particularly high performing subjects include Business Studies, Chemistry, Economics, French, Government and Politics, History, Media and Criminology where all students met or exceeded their target grades.
Particular congratulations to Kelsey, who achieved A*, A*, A*, A and will be taking up a place at St Catherine's, University of Oxford to study History; Jiro (A*, A, A, B, B), Junaid (A, A, B), Azat (A, A, A, C) Kiyaresh (A, B, B, C), Mahir (A, B, C, C) and Edrees (A, B, C, C) are headed to Reading University where Jiro will be studying Environmental Sciences, Junaid, Edrees and Mahir will be studying Economics and Azat and Kiyaresh who will be studying Law.
We are exceptionally proud of our international students; Delia (B, B, C) who joined us five years ago not speaking any English, and will be studying Criminology, Eglantina (B, C, C) and Mohammed, who will be taking up a place at Kingston University to study Cyber Security, four years after arriving here as a refugee from Syria.
Headteacher David Littlemore said:
"I am incredibly proud of our students. They have demonstrated fortitude, resilience and integrity throughout these unprecedented times and leave us as exceptional young adults, ready to take on great challenges as they achieve great things. I have no doubt that they will all make a substantial contribution to society in the future. They are an absolute credit to the school and we wish them all the very best for the future!
I would also like to pay credit to our wonderful staff who worked tirelessly to ensure our students received the highest quality of teaching to ensure that students made significant progress and achieved their full potential"