Sport and Leisure
Our Sport and Leisure facilities are second to none. We are proud of our amazing green spaces and brilliant sporting facilities which provide opportunities for student health, well-being and fitness.
We're extremely fortunate with our sporting facilities – most people can't believe how enormous are fields are the first time they see them!
Our outdoor space includes a field that in the summer boasts a 400m althletic track, long jump pit and two cricket squares; in the winter this becomes a full sized rugby pitch and two full sized football pitches. Add to this a state of the art AstroTurf and outside courts, there really is enough space for everyone.
Our indoor space is similarly impressive. We have an enormous multi-purpose sports hall, a gymnasium, a fitness studio fully equipped with a range of cardio machines, free and fixed weights, professional boxing equipment and a yoga space and the lower school hall is also used for trampolining and table tennis.
We offer a huge range of sports: Rugby, football (boys and girls), basketball, handball, dance and gymnastics, badminton, volleyball, benchball, trampolining, athletics, tennis, netball, hockey, table tennis, cricket…which are taught in lessons, available in clubs and we also participate in many town, county and wider leagues and fixtures.
Our PE staff bring a wealth of experience to the department, with specialist rugby, football, netball and dance coaches in the team.
We also run a hugely popular and successful biannual ski trip – next April will see us headed off to the mountains and slopes of Italy!
All students will have PE lessons every week in Years 7 to 11.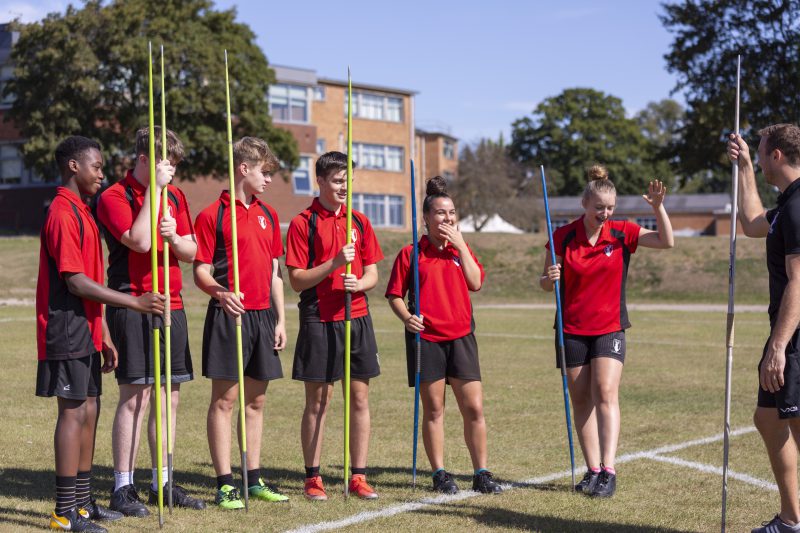 Sport is also an important extra-curricular activity, with at least five different clubs running everyday, and a wide range of competitions and fixtures taking place across the year in a variety of sports.
Sport is also an academic discipline that can be studied at GCSE level and in the Sixth Form as either an A level or BTEC Level 2.