Pros6 - The Sixth Form at King's Academy Prospect
It's a great privilege to be the Head of Pros6 - with more students than ever we are a friendly, vibrant and high performing Sixth Form with the widest range of study options anywhere in West Reading. Our experienced A level and vocational teachers ensure you will achieve the best outcomes you can - and after that - anything is possible!
Our vibrant and fast growing Sixth Form is the ideal place for your post-16 studies. We offer a wide range of study options and opportunities to broaden your horizons further.
Our aim is to ensure that our students succeed academically and that they also become responsible, informed citizens who can make positive contributions to British society. We strive to ensure that all students aspire to reach their full potential and set themselves ambitious goals for the future.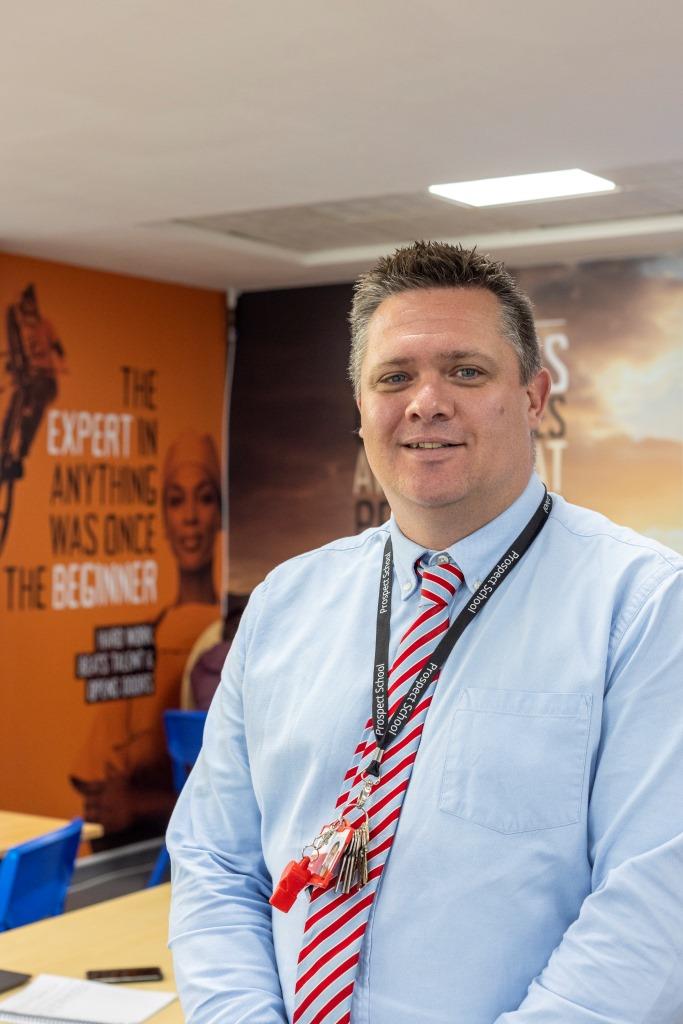 Mr S Alexander
Associate Senior Leader
Head of Sixth Form
A range of programmes of study are available to our Sixth Form students to cater for a wide range of interests and aspirations. These range from a mixed timetable of A level and BTEC qualifications to purely academic (i.e. A levels) or a purely vocational (i.e. BTEC qualifications) pathway. In addition to the core academic or vocational subjects that a student studies, a wide range of enrichment and personal development opportunities are on offer.
Pros6 - The Sixth Form at Prospect Open Evening
tbc
A Levels and BTEC qualifications place significant demands on students in terms of the need to become independent and responsible learners, whilst at the same time maturing as a person. We therefore invest heavily in the pastoral support that we provide our students. In addition to the Sixth Form Team, a team of Key Stage 5 Subject Leaders work together to ensure that each student is supported in achieving excellence. Regular assemblies and a tailored programme of seminars and personal development days provide students the additional support they require to succeed. There are specific programmes in place to support students applying to competitive University courses and for students applying to apprenticeships.
Every student follows an individual programme of study which is tailored exactly to their needs, which will include:
Substantial qualifications which will stretch students and prepare them for education at the next level or employment. We offer a broad range of A Levels, Vocational Qualifications and other academic courses at both Level 2 and 3.
For students who have not yet achieved a Grade 4 in English and/or Maths, this will be part of their core programme of study
Opportunities for work experience (both virtual and in-person) to develop their career choices and to apply their skills in real working conditions
Other non-qualification activity to develop their character, broader skills, attitudes and confidence. Most students study either Core Maths or complete an EPQ on a subject of their choice, are encouraged to complete MOOCs and all students are expected to complete two hours of school service per week. There are also extensive opportunities for school leadership.
The King's Academy Prospect Sixth Form provides a rewarding and challenging post-16 curriculum, with a broad range of academic and vocational qualifications to suit a range of individual needs and interests.
The Sixth Form The student population consists of a large proportion of the school's former Year 11 students alongside students from a variety of other local schools, the Sixth Form provides a dynamic, diverse and lively learning environment.
In recent years, our A Level results have attained the highest average point score of all non-selective schools in Reading, representing a remarkable achievement for our students and staff.
All students are given challenging learning goals and progress is tracked throughout their courses to ensure to maximum their potential.
A large number of our students attend University; others follow further and higher apprenticeships.
In addition to the academic curriculum, our enhanced curriculum includes opportunities for students to add to their skills portfolio through a range of optional activities including the Extended Project Qualification; Work Related Learning, the Duke of Edinburgh Award and Service to School. Students are able to extend their ability to lead, organise, demonstrate resilience show initiative and communicate in a range of contexts. Our aim is to equip students with the qualifications and skills they made need no matter what their next steps are.
Reasons to join Pros6 – Sixth Form at King's Academy Prospect
High quality, engaging teaching in small groups.
An extensive range of courses, including A Levels, BTECs, OCR Nationals and the Extended Project
Qualification.
Effective and knowledgeable support from our dedicated Sixth Form team.
Friendly and positive atmosphere.
Regular progress reviews with members of staff.
Opportunities for extra-curricular and enrichment activities.
Well-stocked Learning Resource Centre.
All students are given their own Chrome Book and lessons are taught to maximise digital skills
Dedicated Common Room, cafe and quiet study areas.
Careers Education at Pros6
Every young person needs high-quality career guidance to make informed decisions about their future. Good career guidance is a necessity for delivering technical education reforms and is a vehicle for social justice: those young people without social capital or home support suffer most from poor career guidance.